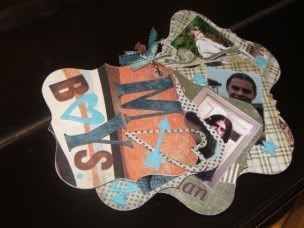 I've just completed my first mini album using the lovely Archaic Range from Basic Grey, and I love it! These quality papers are lovely to use, and suit the various range of ages of all my lovely lads. (Why not pop into Scrappers Warehouse and check out my other LO's using this range?).
I still need to put the journalling in, but that will take me a while to get the right words in my head - I might find some relevant quotes to use, but then I guess my own words would be more meaningful.
Great news at work!!! I've escaped the classroom till the end of the year!!! yippee!!
I have been trying very hard to make myself needed at work, and it seems to have worked. I am loving this job, the people are so supportive and the work is really interesting. And you actually get job satisfaction and recognition ... something I think is really missing from our classrooms/schools as far as the hardworking teacher is concerned.
And, most importantly, I get soooo much more time to create!!!
Like I said earlier....
Yippee!!!!!